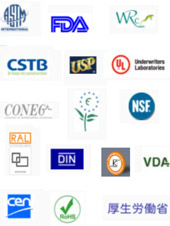 UNISOFT SPECIAL ™
Our UNISOFT SPECIAL™ line offers several groups of compounds providing additional material performances to fulfill different needs and specifications in different markets and industries such as automotive industry, medical and pharmaceutical industry. This product line also offers material with special properties for extrusion, printing, transparency, and many others.
Key Benefits
Materials designed for certain markets and/or standards
Special solutions for special requirements
Offering special properties for special ideas
Plasticizer free TPE's
High resilience TPE's
Extreme outdoor resistance
USP Class VI
EN 71/3
UL 94 V0
RAL GZ 716/1
CSTB DER/BV—PEM
...
Terms of sale

For more information on UNISOFT
SPECIALTM grades please contact
your local representative or send
an inquiry to:
sales@unitedsoftplastics.com
Thank you!